Research Outcome
미래를 창조하는 포스텍 화학공학과
3D Interaction of Zwitterions for Highly Stable and Efficient Inorganic CsPbI3 Solar Cells
Title of paper

3D Interaction of Zwitterions for Highly Stable and Efficient Inorganic CsPbI3 Solar Cells
Author

[박태호교수 연구실] 양쪽성 이온을 활용한 안정적인 고효율 무기 페로브스카이트 태양전지 개발
Publication in journal

Adv. Funct. Mater. 2021, 2112027.
Publication date

20211231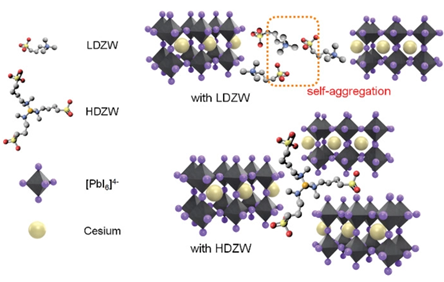 [Abstract]
All-inorganic cesium lead iodide (CsPbI3) perovskites, which replace volatile and hygroscopic organic components with stable inorganic cesium cations, have promising photoelectronic properties for potential application in solar cells. However, highly stable and efficient CsPbI3-based perovskite solar cells are rarely reported because the optically active black phases of CsPbI3 tend to change into a photo-inactive yellow δ-phase. Herein, a highly stable CsPbI3 film that is formed by introducing a small quantity of zwitterions with different dimensions to the perovskite precursor solution is reported. The zwitterions effectively inhibit the formation of the yellow δ-phase during perovskite crystallization and promote the development of a stable black α-phase. In addition, a systematic analysis reveals strong interaction between 3D zwitterions and perovskites in both the solution and film states, which leads to a dense and pinhole-free CsPbI3 film with suppressed trap states. The resulting perovskite solar cells with 3D zwitterions achieve a significantly improved power conversion efficiency of 18.4% with high reproducibility. The devices without encapsulation retain 98% of the initial efficiency after 25 days at 25 °C and relative humidity of 25% ± 5%. Importantly, the 3D zwitterion-based devices demonstrate excellent phase stability when subjected to thermal aging at 100 °C.