Research Outcome
미래를 창조하는 포스텍 화학공학과
A Review on Reducing Grain Boundaries and Morphological Improvement of…
Year of publication
Title of paper

A Review on Reducing Grain Boundaries and Morphological Improvement of Perovskite Solar Cells from Methodology and Material-Based Perspectives.
Author

[박태호교수 연구실] Perovskite solar cell: 모폴로지 개선
Publication in journal

Small Methods 2020, 4(5), 1900569
Publication date

20200511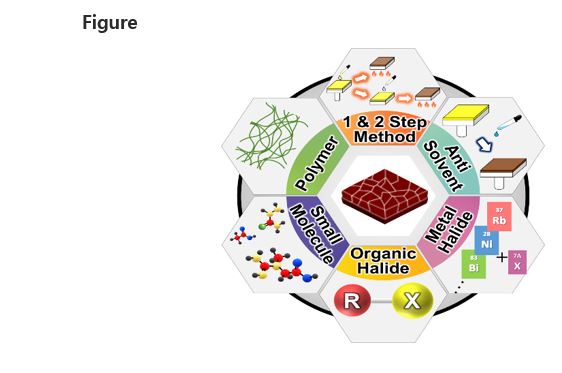 [Abstract]
Perovskite solar cells (PSCs) have achieved 25.2% of their certified efficiency and emerged as up-and-coming energy-harvesting candidates owing to their superior properties. However, perovskite films are mainly polycrystalline films, and thus, the formation of grain boundaries (GBs) is inevitable. Since GBs have numerous defect sites that provide a channel for ion migration, reducing GBs is highly significant for achieving high efficiency and long-term stability of PSCs. To this end, researchers have made efforts to produce a large crystal-based perovskite film with reduced GBs. In this study, various methods that decrease GBs and enhance the morphology of perovskites are summarized and categorized into methodology- and material-based approaches. Furthermore, a future research direction to produce high-quality and large grain-based perovskite film is also proposed.
DOI: 10.1002/smtd.201900569
LINK: http://doi.org/10.1002/smtd.201900569