Research Outcome
미래를 창조하는 포스텍 화학공학과
Suppression of hydroxylation on the surface of colloidal quantum dots to enhance the open circuit voltage of photovoltaics
Title of paper

Suppression of hydroxylation on the surface of colloidal quantum dots to enhance the open circuit voltage of photovoltaics
Author

[박태호교수 연구실]
Publication in journal

J. Mater. Chem. A, 2020, 8, 4844.
Publication date

20200303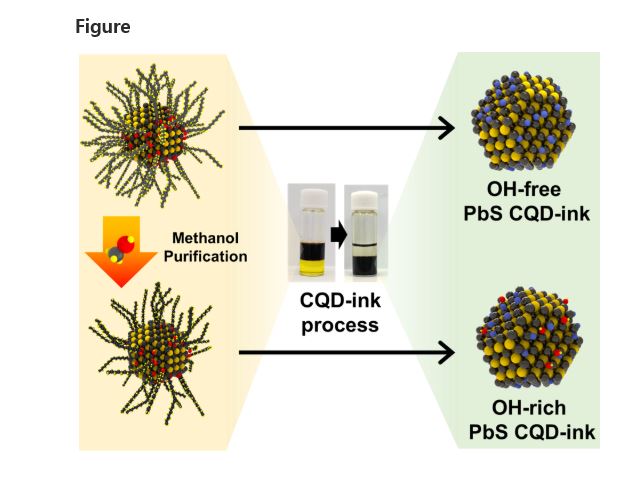 [Abstract]
The fine control over the surface of lead sulfide colloidal quantum dots (PbS CQDs) is increasingly important to achieve enhanced device performance. In particular, the in-gap trap state resulting from the surface hydroxylation of PbS CQDs is considered detrimental to photovoltaic performance. In this study, we developed a method to avoid hydroxyl formation on the PbS CQD surface by using an in situ solutionphase ligand-exchange process. The complete elimination of protic solvents and other hydroxyl sources from the CQD synthesis to device fabrication produced PbS CQD films without undesired hydroxyl ligands with a reduced trap density. In this process, the purification process, which accounts for nearly 60% of the synthesis cost, is completely excluded. The presence of trap states verified through optical analysis and the hydroxylation observed via surface analysis clearly agreed with the device characterization obtained by transient photovoltage and photocurrent. Consequently, the open-circuit voltage of the PbS CQD solar cells is improved by up to 10%, yielding a certified power-conversion efficiency of 11.6%.
DOI: 10.1039/c9ta12598a
Link: https://pubs.rsc.org/en/content/articlepdf/2020/ta/c9ta12598a