Research Outcome
미래를 창조하는 포스텍 화학공학과
Efficiency Limit of Colloidal Quantum Dot Solar Cells: Effect of Optic…
Year of publication
Title of paper

Efficiency Limit of Colloidal Quantum Dot Solar Cells: Effect of Optical Interference on Active Layer Absorption.
Author

[박태호 교수 연구실]
Publication in journal

ACS Energy Lett. 2020, 5, p. 248−251
Publication date

20191206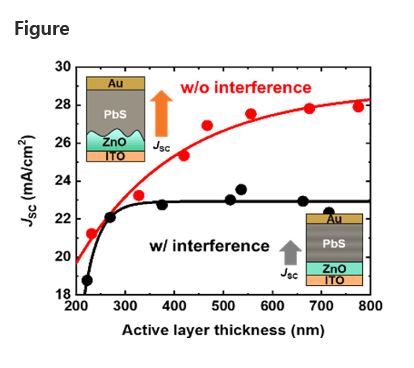 [Abstract]
To overcome current limitations on efficiency enhancement in colloidal quantum dot (CQD) thin-film solar cells, the active layer thickness must increase first by improving carrier transport and formation of band bending to improve collection of carriers. We must note, however, in this heterojunction architecture, estimated optimal active layer thickness, has to be revisited considering the interference effect.
In this study, the negative optical interference effects on PbS CQD solar cells were addressed to estimate the precise active layer thickness for efficiency increase. We analyzed the solar cell device characteristics both experimentally and via its theoretical modeling, depending upon active layer thickness. To extract the optical interference effect only on active layer absorption, the contribution from light scattering is excluded by keeping the ZnO structure size below 80 nm. Optical and electrical solar cell simulation successfully distinguishes the efficiency limits caused by photocurrent and by collection efficiency. Our study further enables systemic evaluation of the efficiency limit of emerging solar cells with similar charge carrier extraction lengths and dimensions with superposition of light waves.
DOI: 10.1021/acsenergylett.9b02504
Link: https://pubs.acs.org/doi/10.1021/acsenergylett.9b02504